Health Professionals and Support Services Award 2020 (MA000027)
Modern awards are complex and often difficult to understand and interpret.
Here are some tips on things to look out for in the award.
Additional tips are added weekly.

Note: Copies of the Award and Pay guide are at the bottom of this page

If you need help with the HPSS award or want regular updates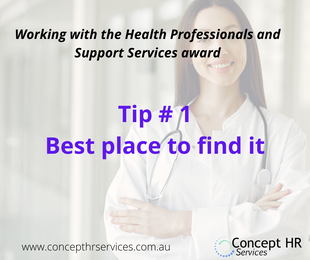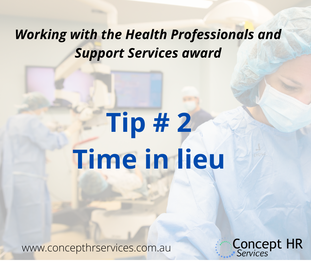 It is common for admin and clinical staff to work overtime and you may be providing time off in lieu of payment of overtime. Did you know that there must be a written agreement for each time TOIL is agreed instead of payment?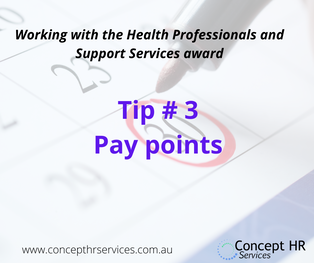 Full time health professionals progress through pay points annually, whilst part timers and casuals progress after 1824 hours experience.
Are you keeping track of the dates when to need to progress staff to the next pay point? This is important to ensure you are paying at least the minimum award rates. (P.S. pay points also apply to Support Service employees levels 8 & 9).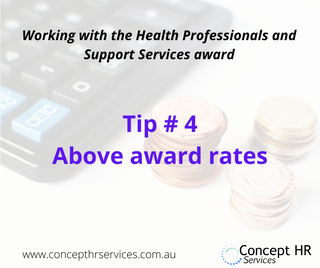 Do you pay "above award" rates in your Practice?
A reminder to regularly reconcile your rates against Award entitlements to ensure that you are not mistakenly underpaying your staff.
Check that your "above award" rate or "all inclusive" rate covers their minimum base rate, loadings, allowances, penalty rates, overtime etc.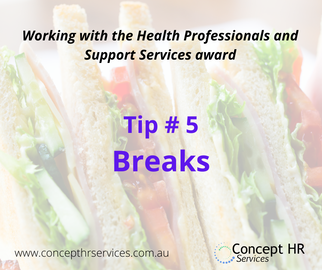 Taking breaks is good for business and patient care……..
Notwithstanding the fact that it is a legal requirement, taking breaks at work has many benefits. It provides a chance to clear your mind, reduces your stress levels, enhance your coping abilities, memory, and focus. This has great results for productivity, customer service levels and employee wellbeing.
The Award provides for an unpaid meal break for employees working more than 5 hours (unless they have a 6-hour shift and request to forgo the break and employer agrees). Employees are also entitled to a paid tea break of 10 minutes in each 4 hours worked.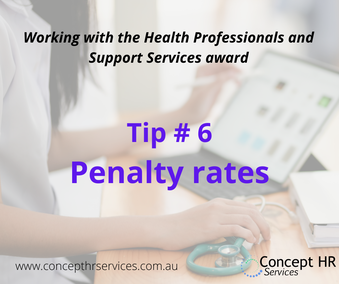 Penalty rates involve a higher rate of pay for working "anti-social" hours, for example on weekends, public holidays, early mornings, and late nights.
I often see people confuse overtime and penalty rates. An employee is entitled to overtime when they work more than 38 hours per week, outside their ordinary hours or more than 10 hours in a shift.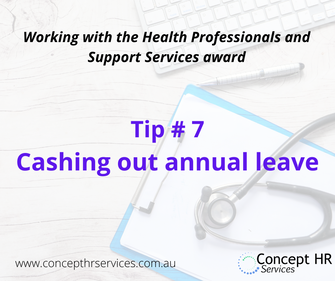 I am often asked about the cashing out of annual leave. This is particularly prevalent during the pandemic because many employees are not taking as much leave due to travel restrictions, it helps those who may be experiencing financial difficulties and some employers may be keen to reduce their leave liability.
I prefer people to take their leave, so they get a break from work and come back refreshed and revitalised. This has positive impacts on employee wellbeing, service levels and productivity.
Here are some of the requirements on cashing out annual leave for employees covered by the HPSS award.
Annual can only be cashed out if there is a written agreement between the employer and employee, signed by both parties.
An employer cannot force an employee to cash out annual leave.
The employee must retain at least 4 weeks accrued leave after the payout
Max payout in a 12 month period is 2 weeks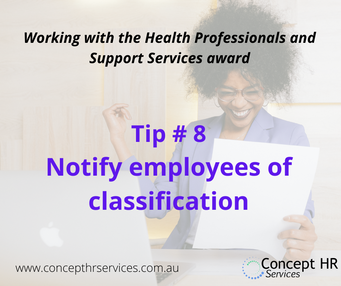 ​Did you know that you must advise your employees in writing of their award classification when they commence employment? You must also advise them, in writing, of any subsequent changes.
You need to do this even if you pay above award rates. You can notify them in their employment contract or in a separate letter. Do your employees know their award classification level?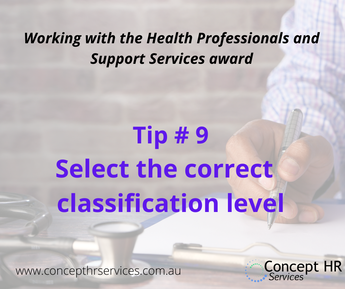 Do you know how to accurately select the correct award classification level for your employees?
Read the classification descriptions provided in the award "Schedule A - classification definitions". Select the classification level that best describes what the employee will be doing in their job (refer to their job description).
Read more about the award level for Medical Receptionists
here
.